The generator pictured above is a cute little 2-stroke inverter generator that I found at a flea market. It was apparently sold at some point by Harbor Freight using their Chicago Electric brand name. It makes 350 watts and weighs only about 8 lbs. It is quiet and just sips fuel.

A three phase permanent magnet alternator feeds the 60 hz inverter. One sets the engine speed manually via the thumb nut on the carburetor according to the load. If the load lightens and the engine over-speeds, a spark cut rev limiter cuts in.

Mini-FAQ No, I don't know where to find another one. No, I don't have any spare parts. No, I don't have a manual.
10/01/06 Pictured at right is an example of something new in the trucking industry - the APU or Aux Power Unit. These units are being installed so that the truck engine doesn't have to be idled to keep the sleeper cool or warm during the driver's down-time. In fact some states are making it illegal to idle for more than a few minutes.

This is an example of an APU mounted to a Kenworth chassis. Inside is a small low speed diesel engine, an air conditioning compressor, a 12 volt alternator and optionally, a 120vac alternator. The engine is water-cooled and so can supply comfort and engine block heat in the winter. The fan in the photo is used to cool the engine in the summer when the heat isn't needed elsewhere.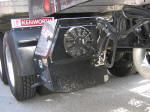 Though primarily aimed at the trucking industry, this sort of APU would be ideal for larger RVs. It could supply all the RV's energy needs from one fuel supply. It would also eliminate the roof-mounted ACs since the APU supplies air conditioning directly. The relatively small condenser can be mounted anywhere. Typically on a large truck it is mounted to the rear wall of the sleeper.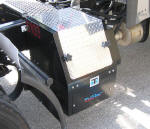 The engine is low speed I'd estimate from 1000 to 1200 RPM and is very quiet. While not as silent as, say, a Generac Quietpack, it is quieter than say, an Onan Emerald and the low frequency chuffing sound is much less annoying than the higher speed generators. This truck was parked on the campus of a community college and was practically inaudible among the normal sounds of a campus on a Saturday afternoon.